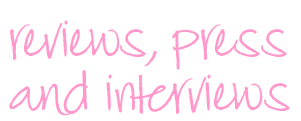 Ginger goes from radio talkshow host to guest when she appears on Maryanne Comaroto's web-based radio show "The Power of We". Visit http://www.maryannelive.com for the details.
Read what Ginger's readers have to say.

From blogs to articles to book signings, find out why people everywhere are laughing and loving
Back on Top: Fearless Dating After Divorce
.
"Book Talk with Gail Cohn"
Radio Sandy Springs
August 10, 2009


"Getting back into the dating game after divorce"
skirt! Magazine
August 20, 2009


"Ginger Makes a Date with Success""
Dunwoody Life Magazine
August 13, 2009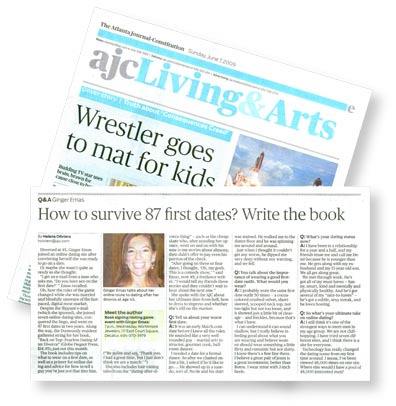 "Q&A with Ginger Emas: How to Survive 87 First
Dates? Write the Book"
Atlanta Journal-Constitution
May 17, 2009



Atlanta Jewish Times
May 8-14, 2009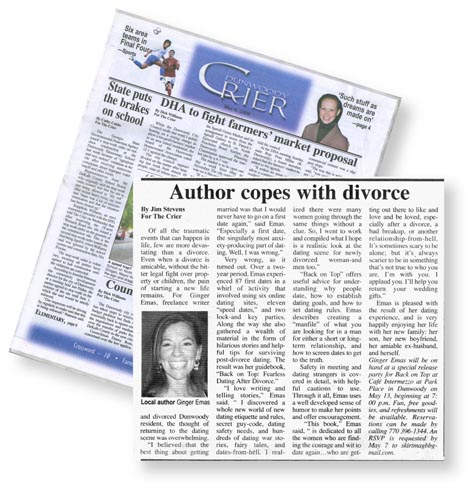 "Author Copes with Divorce"
Dunwoody Crier
May 6, 2009a>



Travelgirl Magazine "Pick of the Week"
Travelgirl Magazine
April 24, 2009


Reviews on Amazon.com










Atlanta: Charity & Make-Over Event at Festivity
November 17, 2009
---
St. Louis KSDK: Newschannel 5 at Noon
July 16, 2009
---
MyFoxAtlanta: Good Day Atlanta
May 13, 2009
---
Star94: Cindy & Ray Show
May 12, 2009