November 17: Shop For A Cause & Knock Out Your Holiday List!
at FESTIVITY Buckhead Boutique
3720 Roswell Road, Atlanta • 5-7pm
Ginger hosts a fashion makeover while you sip, taste & shop!
Percentage of proceeds go to Atlanta Women's Foundation.

November 5: Boca Raton Book Signing & Party at
Boca West Country Club
Boca Raton, FL • 7pm
Check out the pictures!

November 2: 29th Annual Alper JCC Jewish Book Festival
Miami, FL • 7:30pm, $7
Read the Jewish Book Festival advance review!

September 24: Brandeis Study Group - Fearless Workshop
Atlanta, GA • 10am




PREVIOUS EVENTS
July 17: Channel 4 - KMOV, "Great Day St. Loius"
St. Louis, MO • 10am

July 16: Channel 5 - KSDK, "Newschannel 5 at Noon"
St. Louis, MO • 12pm

July 16: St. Louis Book Signing & Party at Portabella Restaurant
15 N Central Ave, Clayton, MO 63105 • 7pm
Ginger takes her book signing on the road! More fun, friends and free martinis!

June 25: "The Diva Success Network Radio Show" with Gina McNew
Sandy Springs, GA • 1pm

June 21: B98.5 Radio, "Change Your Mind, Change Your Life Recovery Radio Show"
hosted by Suzi Marsh, therapist • 7am

June 19: Jewish Networking Group • 11:30am
"The Intelligent and Paranoid Woman's Guide to Dating"
Private booking, not open to the public.

May 20: 107.1 Radio, "Living Out Loud"
St. Paul, MN

May 20: Dating Game LIVE and Book Signing at Worthmore Jewelers
117 E. Court Square, Decatur, Ga 30030 • 5-7pm
Worthmore Jewelers hosts a fun and flirty book-signing and live dating show featuring author Ginger Emas.
Check out the pictures!

May 18: KGNO "The Morning Train Wreck"
Dodge City, Kansas

May 17: "Q&A with Ginger Emas: How to Survive 87 First
Dates? Write the Book"
Atlanta Journal-Constitution article
Lifestyle Section

May 14: Dunwoody Neighbor article

May 13: Book Launch Party at Cafe Intermezzo
Attended by 150 people — signed 200 books in two hours!
Check out the pictures!

May 13: "Good Day Atlanta" TV interview

May 11: Star 94 Radio, "Cindy and Ray in the Morning"
Atlanta, GA

May 8: "Back on Top: Book Helps Divorcees Navigate
Dating World"
Atlanta Jewish Times article

May 6: KCCY Radio, "The Big Y Morning Show with Willie and Val"
Denver/Colorado Springs, CO

May 6: "Author Copes with Divorce"
Dunwoody Crier article

May 6: "Hungry like the Cougar"
Charleston City Paper article

April 24: Travelgirl Magazine "Pick of the Week"
Travelgirl Magazine


February 26: Girls' Night Out Workshop
Dunwoody Country Club
Ginger Emas leads a fun and flirty workshop for women who are interested in dating after divorce.





Thank you for your workshop last night. I was hesitant to go, but I'm so glad I did! I learned a ton about dating online, creating a Manfile, and a lot about myself! You did a great job of blending tips and information with your own stories, and helping us tell ours. And you always knew just the right moment to offer your own support or a story to make us laugh. Thank you! I can't wait for the "field trip" to a Lock and Key party! — Karen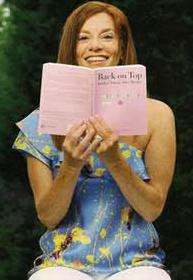 Dunwoody Life Magazine Covergirl
- Ginger Emas